Kessick is a family owned,
family-run business, proudly manufacturing in the United States. We combine aesthetics and function with sound building science to create sophisticated, personalized wine cellars of exceptional quality.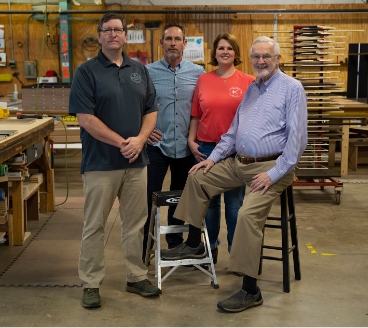 To create Kessick quality products, we use skilled craftsmen and select materials to bring your design visions to life through creative collaboration and cutting-edge engineering. The result is modern beauty with old-world charm and timeless reliability.
Our designs. From the start of each individual project, a team of designers is dedicated to working with clients to understand their vision, set expectations and produce the industry's best design concepts and artistic presentations.
Our people. Kessick systems are hand-built by experienced craftsmen with more than a century of combined knowledge in wine cabinetry construction.
Our quality. Made with cutting-edge technologies and the highest-quality materials, Kessick wine cabinetry components arrive fully assembled, and ready to install
Our process. We take pride in making each client's dreams a reality and work closely with design professionals to ensure that each step of the process leads to the desired result.
Our intention. Kessick quality is born from the deliberate combination of a collaborative design process, select building materials, innovative construction techniques and fully assembled components ready for installation.
It all started with a backpacking trip through Europe.
Robert Bass fell in love with wine as a young man traveling through the sprawling vineyards and dusty cellars of countries who've been mastering the art of wine-making for centuries. Later, with a building science degree from Clemson, Robert knew that he loved design and wood-working but wasn't sure exactly where to channel his talents and passion. Then he thought back to his travels, and to wine. Robert was especially fond of an English market town he encountered in Cumberland named Keswick. Swapping a "w" for an "s" (the Bass family likes a double "s" combo), he had a name for his new endeavor—Kessick.
Kessick began as a father and son team designing and constructing wine cellars. Unhappy with the poor quality of existing wine racking systems, they built their own.
As the business grew, Robert and his dad Ralph made the decision not to sell their products online as kits to be assembled. Kessick systems are only available for purchase with fully assembled components to be installed, like cabinetry. This ensures the highest level of quality and functionality.
Since its humble origins, Kessick Wine Storage Systems has evolved to become a national supplier of the highest-quality wine cabinetry and contemporary wine storage systems. Along the way, Robert and Ralph expanded their team along with the business.
True to form, they hired based on quality they could trust—family. Bringing in a brother, a sister, her husband and several grandchildren, Ralph was able to retire and watch what his family has created.
Kessick not only represents three generations of the Bass family, it also embodies
the dream of owning and running an American company that prides itself on uncompromising quality, innovative style and the satisfaction of owning something
that combines beauty and function at the highest level.