KESSICK QUALITY BEGINS WITH OUR PEOPLE.
Our experienced craftsmen have more than a century of combined knowledge in wine cabinetry construction. Their goal is to bring the customer's dream to life. Attention to detail, continual product improvement and the perpetual drive to exceed expectations set Kessick apart.
The Kessick Competitor Comparison
Exploring the Kessick Difference
Factory assembled wine cabinetry components. Install right out of the box. Competitor: Stick construction kits ships flat packed and must be assembled prior to installation.
Wine cabinetry assembled with dowel and joinery construction. Engineered to have all fasteners hidden.
Competitor: 'Parts' nailed with brads and staples with no effort to hide the fasteners.
Box construction cabinetry utilizing full ¾" hardwood core A-Grade panel with solid wood internal componentry.
Competitor: Stick construction. Lattice assembly of strips of redwood and pine.
Individual Columns 'Ladders' are designed with a proprietary radius bottle support with dowel construction. No screws or staples are used and there are no visible fasteners.
Competitor: Individual column 'Ladders' are fastened with visible nails.
LED lighting is designed into each project and factory installed into the wine cabinet components. Wire chases are factory routed and drilled and lighting packages include drivers and controls. Competitor: Lighting systems are offered as loose 'parts' to be installed during the installation process.
Kessick standard hardwood options consist of walnut, sapele mahogany and white oak. Designer architectural panels incorporating the latest colors and finishes including high gloss, super matte and heavy embossed wood graining are available for most product lines. Competitor: Low quality wood species such as pine and redwood are the standard. Designer architectural panels are not offered.
Wine cabinetry is shipped with assembled independent base platforms. Competitor: Independent base platforms not included.
Wine cabinetry is assembled with integrated install rails. Competitor: Integrated install rails not provided.
Our thoughtful crating and packaging process has been carefully engineered to minimize shipping damage and to expedite installation. Competitor: Ships flat packed in multiple cardboard boxes and must be assembled prior to installation.
Furniture grade finishes: Hand wiped stains are finished with an automated feed-through sealer and topcoat line. Competitor: Spray on stain/toner designed to mask the wood grain. No seal/sand step.
Designed, engineered, and manufactured in the USA with domestically sourced materials. Competitor: Some of the larger wine cellar companies use outsourced overseas designers and have their wood products made in Indonesia, India and Mexico.
Product design and improvement is constant. New developments in construction techniques and materials such as metal, acrylic, architectural panels and LED lighting keep us on the front lines of the designer trends while staying grounded in our traditional roots.
Technology + Craftsmanship results in high levels of precision and machining capabilities. Combine this with an experienced personal touch and the result is a product that can only be called Kessick Quality.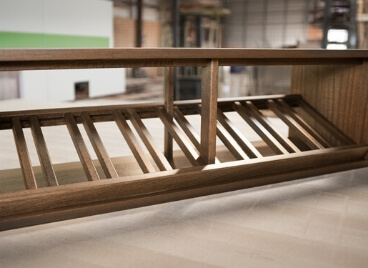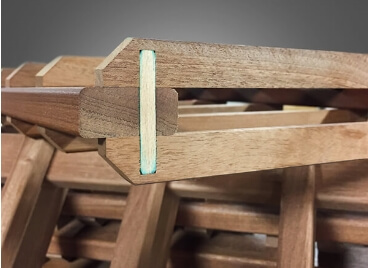 To create Kessick quality products, we use skilled craftsmen and select materials to bring your design visions to life through creative collaboration and cutting-edge engineering. The result is modern beauty with old-world charm and timeless reliability.
Our designs. From the start of each individual project, a team of designers is dedicated to working with clients to understand their vision, set expectations and produce the industry's best design concepts and artistic presentations.
Our people. Kessick systems are hand-built by experienced craftsmen with more than a century of combined knowledge in wine cabinetry construction.
Our quality. Made with cutting-edge technologies and the highest-quality materials, Kessick wine cabinetry components arrive fully assembled, and ready to install
Our process. We take pride in making each client's dreams a reality and work closely with design professionals to ensure that each step of the process leads to the desired result.
Our intention. Kessick quality is born from the deliberate combination of a collaborative design process, select building materials, innovative construction techniques and fully assembled components ready for installation.
In order to create efficiency in the installation process, we carefully identify each assembled component by room, wall, and location. A mock-up of each wine cellar design is fitted on the floor to verify the dimensions of each component and their overall fit in the wine room. Kessick's attention to detail continues into the packaging and shipping to minimize potential damage and ensure a positive installation experience.