If you have a design concept that you want to become a reality or you are looking for expertise in the field of wine room design, Kessick is your partner. We understand the challenges and potential liabilities a wine cellar poses. We are experts in this field and are ready to provide the consultation, design ideas and advice to help you plan and execute a successful wine room project.
Who Does Kessick sell to?
Kessick designs and manufactures wine cabinetry and contemporary wine storage systems and sells wholesale through a national network of authorized dealers.  You must be a design professional to become a dealer, including Wine Cellar Professionals, Kitchen & Bath Designers, Cabinet Builders, Design-Build Firms, Closet Professionals and more.  The purchase of a dealer kit is required.  Dealers receive factory training, product education, free initial designs, showroom discounts, sales support, sales leads and wholesale pricing.  Consultation and product education on wine storage, refrigeration and room construction are provided.
Why does Kessick only sell wholesale?
Kessick is a business-to-business wholesale supplier of quality wine cabinetry and contemporary wine storage systems. By focusing on the design and trade professional, we are able to provide the highest level of attention and collaboration with our individual dealers while they focus on the end-buyer.
How Do I Become A Dealer?
Kessick Authorized Dealers must be qualified design professionals who are motivated to promote, sell and install Kessick wine storage systems in their regional area.  Business website, email and the purchase of a dealer kit is required.
What is provided in a dealer kit?
A Kessick dealer kit costs $499 and comes with a variety of sales tools, including four tabletop samples – Estate, Parallel, Wine As Art, and Elevation, a full set of wood/stain samples, a wood ladder to show construction, and 50 brochures.  When you purchase a dealer kit, you will get Design A of each project at no charge (excludes Reserve Series), and Design B is credited if the project sells.  Upon request, we will also provide you with Hi-Res photos to be used for local marketing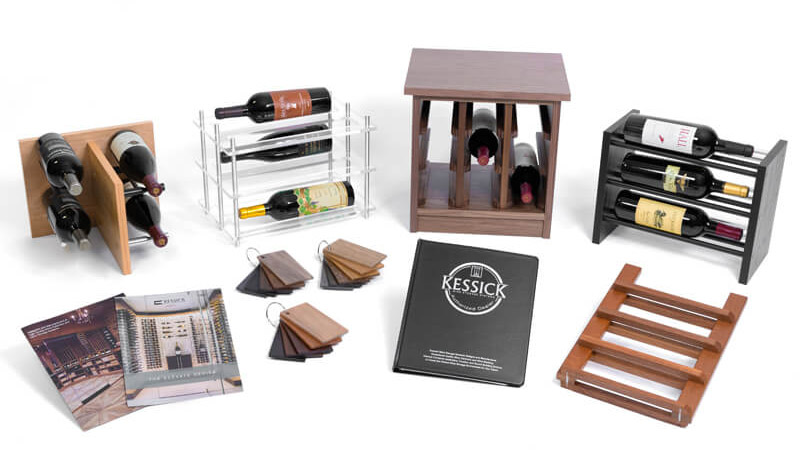 How is your wine cabinetry different from other wine racks available locally or online?
Kessick's wine cabinetry was developed to be the quality alternative to the current industry standards. Our walnut, sapele mahogany and white oak standard wood options are far superior to the redwood and pine available online.
Kessick manufactures fully assembled wine cabinetry, shipped to install immediately upon delivery with no site-assembly required. This results in reduced installation time and a high level of finish.
Careful attention to the design and engineering of our wine cabinetry is evident in the ¾" A-grade hardwood-core casework construction. Factory assembled with dowel and Confirmat fasteners, they also incorporate integrated install rails and independent base platforms.
Our solid hardwood internal componentry, such as individual columns, display rows etc. are engineered with dowel and joinery construction with no visible fasteners and are considered the highest quality wine storage systems available nationally.
Kessick designs and manufactures a wide variety of wine cabinetry and contemporary wine storage systems. Although we start with our standard catalogs of wine storage componentry, each design is customized for the budget, bottle count, specific room size and architectural design elements that your client requests.
How does your pricing compare to other wine racks I've seen online?
When compared to custom casework and high-end marketed wine racks, Kessick Wine Storage Systems are an amazing value. 'Kessick Quality' is not just a saying; it's how we do business.  Kessick crafts fully assembled, hardwood wine cabinetry and cannot be compared to the many unassembled kit racks and stick construction products available on the marketplace.  However,  we find that we are still competitive on many of the price comparisons when you consider that the installation process is minimized due to our ready-to-install format, pre-installed LED lighting, factory countertop and millwork joinery, integrated install rails and more.
How do I begin the design process?
A design begins with the completion of the Design Request Form along with a room sketch, floor plan and an inspiration photo, if available. The more information we get at the beginning of the design process, the quicker we can produce an accurate design and quote.
What is the design/build/shipping process?
Kessick will produce a comprehensive color 3D design, at no cost, to be used as a sales presentation.  Once a final design is determined a 50% deposit is collected and Kessick creates a comprehensive, dimensioned design for customer approval.  Upon approval by signature of these forms the job goes onto the production schedule and an estimated shipping date is provided. Prior to completion, the shipping arrangements are confirmed and an invoice for the balance is submitted.  Upon final payment the job is shipped.
What is your turnaround time?
Projected ship dates are given when the dealer has approved the sign off. The assigned date varies between 8 and 20 weeks, depending on the design series, complexity, and size of the job.
What is the shipping process?
Kessick carefully packages in crates and pallets and ships LTL freight for both commercial and residential deliveries. For residential deliveries, a lift-gate service is utilized.
We promise to meet your expectations by exceeding your customer's expectations.
Kessick's design and quality are industry leaders.
The attention to detail enhances the installation process helping to complete the job in a timely manner. Designers and owners are pleased with their Elevate series projects.